Mauritius is a small isolated volcanic and tropical island located in the Indian Ocean. It is situated approximately 2300 km (1429 mi) off the southeast coast of Africa and approximately 900 km (559 mi) on the east of Madagascar. Its closest neighbour is Réunion island, about 175 km (109 mi) to the south west. 
The island is approximately 65 km (40 mi) long and 45 km (28 mi) wide and has an area of 1,865 km2 (720 sq mi). 
Mauritius is part of the region known as the Mascarene Islands, which includes nearby Rodrigues and Réunion.
Island Formation
Mauritius was formed through volcanic activity that started approximately 10 million years ago and continued for over a few million years.
The island emerged as a result of underwater volcanic eruptions, which gradually built up layers of solidified lava and volcanic rocks. Over time, these volcanic accumulations rose above sea level, forming the landmass that we now know as Mauritius.
Coastline
The majority of the island is surrounded by coral reefs which protect the coastline from erosion and provide habitats for diverse marine life.
The barrier reefs give rise to calm, shallow and turquoise lagoons which are ideal for swimming.
Mauritius is renowned for its white and fine sandy beaches that stretch along much of the coastline. These beaches are often lined with casuarina and coconut trees, creating ideal settings for picnicking. 
Mauritius boasts a varied coastline, featuring sandy beaches, rocky shores, muddy shores, calcareous limestone shores, cliffs, and coastal wetlands.
Rugged rock formations and cliffs in the west and south serve as reminders of the island's volcanic history.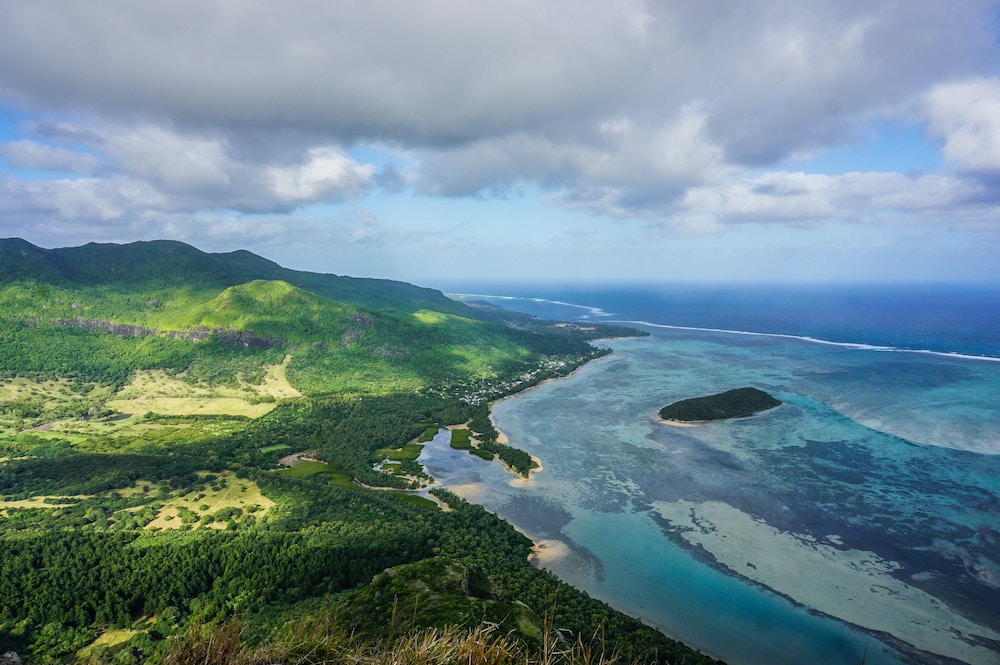 Central Plateau
The coastal plains slope upward to a central plateau, which varies in elevation from 270 to 730 m (886 to 2,395 ft). It is partially encircled by small rocky mountains, which are the remnants of the ancient volcanic crater responsible for the island's formation.
The central plateau enjoys milder temperatures but receives more rainfall. It is also where the majority of the population resides.
Mountains
Mauritius is dotted with several small mountains and hills, with the highest peak being the mountain Piton de la Petite Rivière Noire (Black River Peak) at approximately 828 m (2,717 ft) above sea level.
Other notable peaks include Pieter Both, recognised by its unique human-shaped silhouette, and the iconic Le Morne Brabant, a UNESCO World Heritage Site known for its historical significance as a refuge for escaped slaves in the 18th and 19th centuries.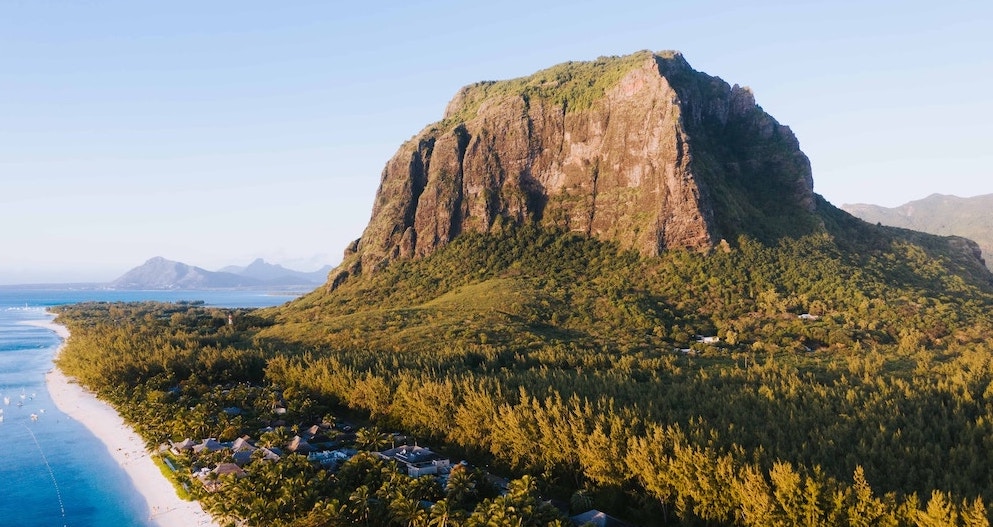 Rivers, Lakes & Reservoirs
Rivers, streams, and lakes play an important role in sustaining the island's ecosystem.
There are several rivers that start from the central plateau and flow towards the coast. These are essential for providing freshwater for irrigation, agriculture and domestic use.
The island has both natural and artificial lakes and reservoirs. These water bodies are often used for water supply, irrigation, and recreational purposes. 
Some of the well-known lakes and reservoirs in Mauritius include Grand Bassin lake, which is also a sacred site for Hindus, and Mare aux Vacoas and La Nicolière reservoirs.
Forests & Vegetation
Mauritius boasts vibrant green scenery, particularly in areas with plentiful rainfall and fertile soils. The island is adorned with abundant greenery, featuring diverse landscapes such as forests, grasslands, and agricultural fields.
Mauritius has native forests, primarily in the hilly and mountainous regions, which include various plant species, including endemic and indigenous ones. Some of these forests are protected, such as those in the Black River Gorges National Park.
Some coastal regions are home to mangrove forests, serving as crucial habitats for a wide range of marine species and functioning as natural barriers that protect against coastal erosion.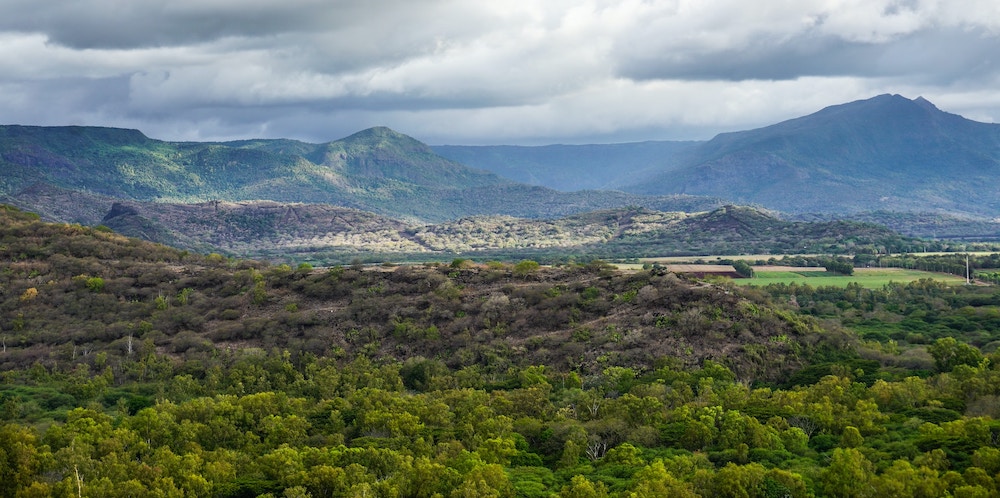 Climate
Mauritius enjoys a mild tropical maritime climate throughout the year. Its climate is influenced by its location in the southern hemisphere and the surrounding Indian Ocean, which moderates temperatures throughout the year.
Temperature
Summer (November to April)
The month of October starts the transition from winter to summer.
Summer in Mauritius is warm and humid. It's also the wetter season, with the highest rainfall occurring from December to March. Average temperature in summer is 24.7 °C.
January and February are the warmest months, with an average maximum day temperature of 29.2 °C.
Winter (May to October)
The month of May starts the transition from summer to winter.
The winter season in Mauritius is cooler and drier. It's known for its mild temperatures and lower humidity levels. Average temperature in summer is 20.4 °C (68.7 °F).
July and August are the coldest months with an average minimum night temperature of 16.4 °C (61.5 °F).
According to the Mauritius Meteorological Services, which provides data covering the period from 1971 to 2000, the highest average temperature recorded is 35.9 °C (96.6 °F), while the lowest average temperature recorded is 7.7 °C (45.9 °F).
It's important to note that temperatures vary by region. Coastal areas, especially in the north, are noticeably warmer than the central plateau during summer, while the central plateau tends to be colder than the rest of the island during winter due to its higher elevation.

Rainfall
Mauritius gets a good amount of rain every year (about 2000 mm), with the wettest month being February and the driest month being October.
During the summer, it gets more rainy - about two-thirds of the yearly rain -  while in the winter, it's a bit less.
There is no specific rainy season but it usually rains the most from December to March.
Torrential Rains & Cyclones
Mauritius is prone to torrential rains and cyclones, particularly from January to March.
Cyclones typically bring intense rainfall and strong winds and are often damaging to agriculture, buildings, trees and infrastructure. They often disrupt essential services such as electricity, water supply and transportation.
The Mauritius Meteorological Services closely monitors and issues warnings of varying levels of severity for cyclones and torrential rains to help protect the population and activate preparedness and response efforts.
Torrential rains warnings are issued when accumulated rainfall has reached 100 mm in a given region or is likely to reach 100 mm in a given region in the ensuing hour, and the rain is expected to continue.
Schools are closed when cyclones start to pose a potential threat (a Class 2 warning is issued) and during torrential rains. Shelters are set up during cyclones to provide a safe haven for those in need. Recent rules have come in place where residents may be required to stay indoors and prevented from being outdoors without a valid reason.
Mauritius generally has a good safety record when it comes to managing cyclones and safeguarding the population.
Humidity
Mauritius maintains a consistently high level of humidity throughout the year, typically ranging between 75% and 85%.
Due to the high humidity, some visitors might perceive the temperature as hotter than the recorded temperature suggests, especially during the summer season.
Wind
Mauritius is influenced by the southeast trade winds for much of the year. These winds provide a relatively constant and cooling breeze, especially on the eastern and southern regions of the island.
The eastern side of the island tends to be windier due to the southeast trade winds. In contrast, the western side of the island, sheltered from these winds, generally experiences calmer conditions.
During the cyclone season, Mauritius usually experiences strong and gusty winds.
Sunshine
Depending on the season, different regions receive between 6 to 9 hours of sunshine daily.
During summer, high grounds see about 6 hours of bright sunshine, while coastal regions get 7.5  to over 8 hours of bright sunshine.
During winter, the central plateau gets around 5 hours of bright sunshine, while the coastal areas get more than 7.5 hours of bright sunshine.
The UV (Ultraviolet) index tends to reach very high levels, especially during summer. It's recommended to always use sunscreen for sun protection.